Witnessed the passing work during the day. It was also pointed out in the blog comments, I went to the newly opened take-out fried chicken shop. Were lined with customers.
The margin was raised from open YUKARI(縁). Turn right at entering the entrance to the Nakano-Sunmall, passing standing soba shop, looking in front of KFC. It is next to it. I was previously at a ramen shop Azisitsi(味七).
Because of the matrix is understood that staff are handing out flyers at the top.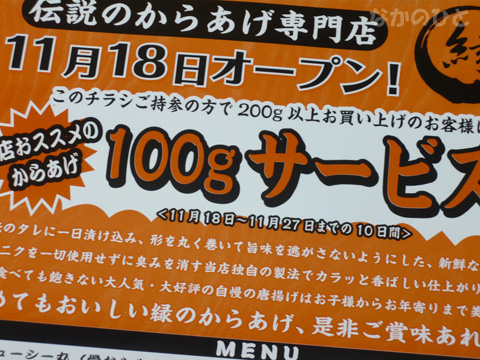 10 days from the 18th to 27th open, bring flyers give customers 200g Fried recommend purchasing a service and is more than 100g.
The menu from fried chicken, garlic and sesame sauce, garlic and secret, and many other parts of the chicken skin tips and naan and rice crackers.
And also the bar near the front of the Ramen shop. And 22:00 hours. Such opportunities are likely to drop slightly as a snack or a souvenir.
★Fried Chicken YUKARI shop information: 5-62-7 nakano Nakano-ku Tokyo、03-5380-3830、11:00-22:00、open everyday.Fried Chicken YUKARI 's Homepage (Japanese)