Beef bowl chain, so that was that the price of 240 yen discount to par of the Matsuya Beef Bowl, I made ??a long time. Is usually from 320 yen, I have a discount is a great deal.
Is that so usual, but do the campaign, crowded restaurant has a great deal. This time I asked the soft-boiled egg with a par of beef bowl.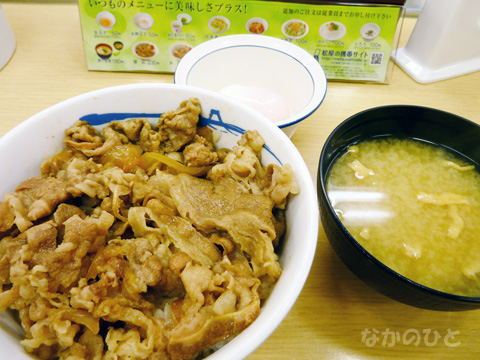 What a chance, I feel a large amount of meat. In your bowl, the onion was missing too.
Recommended that the food has to show the clerk your phone next door neighbor. Could mobile coupon. Fast food, especially McDonald's was a familiar sight, sounds like you are in a different mechanism is Japanizu beef bowl fast food shops.
It is said this offer until 15 PM November 24.
Shop information:5-68-9Nakano Nakano Ward、03-5318-7331